Fishing in Southwest Louisiana

The Fly Fishing Loop is sponsored by flydepot.com
[ Home Waters | Next | Random | List | Search ]
These pages are best viewed using Mozilla
Welcome. Feel free to browse the site and explore it. If you find a problem, I would appreciate it if you would notify me at chemprof2001@yahoo.com. Thanks for visiting. Mark Delaney
Registration Forms Now Available for Gulf Coast Expo 2008
Registration forms for the Gulf Coast Expo 2008 May 16 -17th in Lake Charles, LA are now available at http://www.gulfcoastfff.org/index.php?page=Expo-2008 . A mail-in registration form (check only) is available. Also available is online registration (credit card or check). A $2.00 processing fee will be charged for online registration. The Gulf Coast Expo 2008 will feature Bruce Richards, Nick Curcione, Tim Borski, and Mark Sedotti plus many programs and workshops. Friday evening there is a crawfish boil, and Saturday evening the banquet featuring an auction an authentic Louisiana cuisine. Over a total of over seventy demonstration fly tiers will be tying Friday and Saturday.


Spring 2008 Issue of GCC Newsletter "Sea to Stream" Available
The spring 2008 issue of the Gulf Coast Council-FFF's newsletter "Sea to Stream"mis now available at http://www.gulfcoastfff.org/index.php?page=communications .


April meeting of the Contraband Fly Casters
The next meeting of the Contraband Fly Casters will be on Tuesday April 15, 2008 in Room 200 of Kirkman Hall on the McNeese campus in Lake Charles, LA. The fly tying begins at 6:00 pm, with the meeting and program beginning at 7:00 pm. We will be holding a hook and materials swap. Bring your excess hooks or materials and trade for something you need!!

The Contraband Fly Casters April 2008 newsletter is now available online.


Winter 2008 Gulf Coast Council of Federation of Fly Fishers Newsletter, "Sea to Stream" Available
The winter 2008 edition of "Sea to Stream," the quarterly newsletter of the Gulf coast council of the Federation of Fly Fishers is now available at http://www.gulfcoastfff.org/index.php?page=communications . This issue contains excellent articles on shooting heads, rattle flies, fly patterns and more.


New! Wallpaper of Bridge Graphic Above (sans writing)
Wallpaper images of the graphic above are now available. As I collect other images suitable for wallpaper I will add them to the page. The address for the wallpaper page is http://www.geocities.com/chemprof2001/wallpapr.htm. Enjoy the images!


Tides for Week of April 28, 2008


Tides for Week of May 5, 2008


Over 100 Warmwater and Saltwater Fly Patterns Available Below:




Click on links in text below to see pictures and stories



I moved to southwest Louisiana in the fall of 1987 from Midland, Michigan. In Midland I fished for walleye, smallmouth bass, crappie and other panfish in the Tittabawassee River, well known for its walleye runs. The Tittabawassee runs in to the Saginaw River and then into Saginaw Bay of Lake Huron. Brown trout fishing was available in the Cedar River a short way north of Midland. In the Great Lakes (I mostly fished Lake Michigan) and tributaries rainbow trout, steelhead, chinook salmon and coho salmon were available.

When we moved to Louisiana, I had to learn a new type of fishing, saltwater. I found that in addition to the bass and panfish that the saltwater species were plentiful and varied. I never know just what I'm going to catch. I do a lot of fishing on the beach in the Gulf of Mexico, in Prien Lake, Lake Charles and some in Calcasieu Lake. I've caught redfish, speckled trout, flounder, bluefish, gulf whiting, black drum, gafftopsail catfish, blacktip shark, sand trout, spadefish, jack crevalle, needlefish and I know I'm leaving some out.

One of my great interests is flyfishing and flytying. I maintain several pages with fly patterns on them including the 1998 Redfish/Speckled Trout Swap, the 1998 Estuary Swap (organized by Robb Nicewonger), Mark's Bass & Panfish Flies, Mark's Saltwater Flies, the Spring 2002 Saltwater Swap, the Tom Nixon Memorial Fly Swap. and the Second Tom Nixon Memorial Fly Swap.


Fishing Buddies
Bill Marshall
Anthony West
Favorite Links

Louisiana Links

Ron Begnaud's www.redchaser.com site

Contraband Fly Casters - Local Lake Charles Fly Club

(Alternate Contraband Fly Casters Site - Local Lake Charles Fly Club)

Flyfish Louisiana
The Jump

Louisiana Fishing Magazine

Louisiana Flyfishing

Louisiana Sportsman Fly Lines

Loup Garou

Native Waters

New Orleans Fly Fishers

North Louisiana Fly Fishers

Larry Offner's Bayou Bound Blog

Ouachita River Fly Fishers

Raging Redfish Reports

Red Stick Fly Fishers

RodnReel

Mark Rumph's Southern Fly Fisher

Southwest Louisiana Fishing Club (Lake Charles)

Roger Stouff's Native Waters


East Texas Links

East Texas Fly Fishers (Longview)

Piney Woods Flyfishers (Lufkin)

Texas Fly Fishers of Houston


Other Links

Bear Handed Fly Designs

Big Red Fly Box

Byard Miller's Virtual Flybox

Charlie's Fly Box

Dan Blanton's Fly Fishing - Panfish to Billfish

Desert Eagle Custom Wooden Fly Reels

Don Ordes' Fantasy Flies Site

Ed Engelman's Low Budget Fishing and Flytying

Fishaholics Anonymous

Fly Anglers Online

Flyfish.com Site

Flyfisherman Magazine Site

Fly Fishing in Salt Water

sefly.com "Flyfishing the Southeast"

www.FlyTyingForum.com

Hans Weilenmann's Flytier Site

Global Flyfisher Site

Hatches Magazine online

The Highlander - Traditonal Scottish Wet Flies

MidCurrent

Killroy's Flytying Site

Mark Romero's Site

www.RodBuildingForum.com

Reel-Time

Salt Water Fly Tying

Sexy Loops

Top Saltwater Flies by Dan's Custom Flies

www.TalkFlyFishing.com

Troutflies Site

Twin River Anglers "The Tying Bench"

WarmFly

Warmwater Fly Tyer

Westfly Site

Wxtide32, Free Tide Prediction Software



Louisiana Fishing Guides
Guide Page
Federation of Fly Fishers
National Federation of Fly Fishers Website

Southern Council of the FFF Website

Southern Council Long Casts Newsletter

South Eastern Council of the FFF

South Eastern Council Water Mark News Letter

Gulf Coast Council of the FFF

Photography by Mark & Valerie Delaney (with occasional help from Bill Marshall and Anthony West), scans by Mark Delaney

To Delaney Family Homepage

To Dr. Delaney's Research Page

Information on Dr. Delaney's Spring Semester 2008 classes



Join the Coastal Conservation Association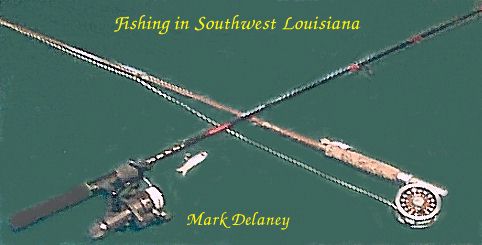 Last update of pages April 28, 2008.