Hardbody Prisma Streamer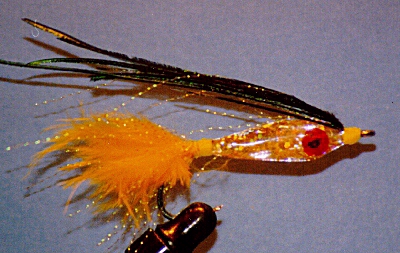 Hook: Eagle Claw 66NA or Mustad 92611 with offset straightened, size 1-2/0
Thread: to match body color
Body: Prism tape, coated with 5 minute epoxy
Eyes: Prism tape eyes applied prior to epoxy coat
Wing: A few strands of Krystal Flash topped with 4-7 strands peacock herl
Tail: Marabou topped with Krystal Flash

Cut out a rectangular piece of prism tape large enough for your fly. Remove the backing and fold it over so the shank of the hook is at the center of the rectangle formed. Use a scissors to trim the rectangle to the desired shape. Apply prism tape eyes. Coat the body with 5 minute epoxy and rotate while the epoxy cures. It is best to wait 24 hours for a complete cure (rotation can be stopped after 5 minutes). Put the unfinished fly in the vise. Tie in marabou and Krystal Flash for the tail. Coat the wraps at the tail with head cement. Tie in a few strands of Krystal Flash at the head of the fly and 4-7 strands of peacock herl. Finish the head of the fly and coat the wraps with head cement. If you can' find the color prism tape you want, use silver prism tape, color it with a permanent felt marker and use that. The color will fade somewhat when you apply the epoxy and allow it to cure. A good color can then be obtained after 24 hours by coloring the epoxy with the same color permanent felt pen.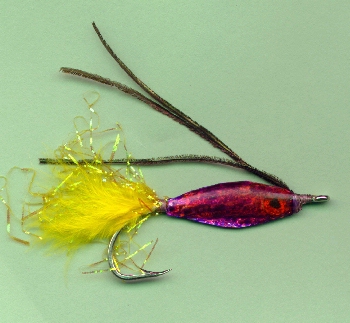 Mark Delaney - delaney@mail.mcneese.edu




Back to Spring 1998 Redfish/Speckled Trout Flyswap